Archivado en Noticias, Empleo, Socio Economico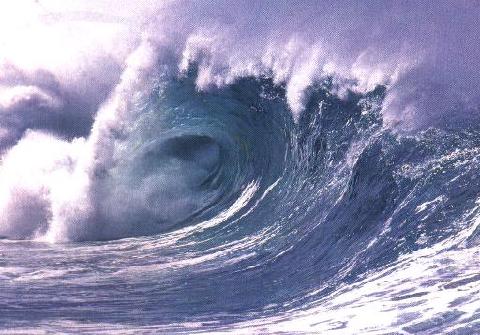 CCOO Asepeyo
El 'tsunami' de los despidos, una pesadilla lejos de acabar.
Una oleada de despidos masivos recorre el mundo. Sólo en dos días, empresas financieras y no financieras han anunciado la supresión de al menos 77.000 puestos de trabajo en un intento de reducir costes y hacer frente a la peor crisis económica desde la Gran Depresión.
28-01-2009 - Las cifras son especialmente preocupantes en la industria bancaria, donde ya se han perdido más de 250.000 empleos. Pero tampoco escapan el sector del motor, el tecnológico, el farmacéutico o el industrial. Y las previsiones no son halagüeñas. La destrucción de empleo se prolongará durante 2009.

Sólo en los dos últimos días empresas y entidades financieras de todo el mundo han anunciado al menos 77.000 despidos, cifra equivalente a los habitantes de Toledo capital o a los empleados que empresas como Inditex tienen en todo el mundo.

Los recortes de empleo son la consecuencia de la entrada en recesión de las principales economías, después de que el estrangulamiento del mercado de crédito y el desplome de sectores como el constructor hayan paralizado la demanda por parte de los consumidores provocando una fuerte reducción de las ventas y obligando a las compañías a acometer severos recortes de costes.

La peor parte se la lleva el sector financiero, donde más de 250.000 personas han perdido su empleo desde que estalló la crisis en 2007. El último banco en sumarse a la lista ha sido ING, que el lunes anunció que eliminará unos 7.000 puestos de trabajo con el objetivo de reducir los costes en 1.000 millones de euros. El grupo también ha decidido volver a solicitar ayuda del Estado para evitar nuevas pérdidas vinculadas a activos tóxicos. El Gobierno holandés ya le había inyectado en octubre 10.000 millones de euros.

Más decepciones
Lejos de cesar, todo apunta a que las entidades seguirán recortando plantilla en los próximos meses. UBS, por ejemplo, ha anunciado una segunda ronda de despidos dos meses después de la primera, lo que ha llevado a los expertos a advertir que otros miles de puestos de trabajo peligran en el sector financiero. Deutsche Bank y Credit Suisse podrían seguir los pasos del mayor banco suizo en la medida en que persiste el deterioro de los mercados y los Gobiernos preparan el desarrollo de los planes de rescate iniciales, adoptados el pasado otoño.

"La banca de inversión seguirá redimensionándose e intentando volver a la rentabilidad en un futuro próximo", explican los analistas de Keefe, Bruyette & Woods. "Reducirán agresivamente su base de costes", añaden.

Gigantes, pero menos
En la última semana, entidades del tamaño de JP Morgan Chase, Citigroup y Bank of America han anunciado unas pérdidas mayores de lo previsto por las provisiones necesarias para cubrir los activos tóxicos. En Europa, los inversores tampoco se han librado de las decepciones financieras, entre ellas, Royal Bank of Scotland y Deutsche Bank.

Muchos de los despidos se están produciendo en las divisiones de banca de inversión, una de las más castigadas por el derrumbe de los mercados el año pasado. No obstante, hay entidades que también están optando por cerrar o deshacerse de determinadas líneas de negocio, como las de commodities.

Los analistas de JP Morgan estiman que UBS podría reducir la plantilla del área de inversión en otros 1.100 empleos a finales de 2010 —el 4 de octubre dio la carta de despido a 4.000—.

"No tiene otra elección. El mercado seguirá difícil durante 12 meses", aseguran en Kepler Equities. "En 2004, el banco suizo contaba con 17.000 empleados y generaba unos ingresos de 16.000 millones de francos suizos, mientras que para este año estimamos que los ingresos rondarán los 13.000", explican responsables de Credit Agricole Cheuvreux. Mientras, Deutsche Bank podría eliminar a unos 4.000 banqueros de inversión y Credit Suisse, que ya recortó 5.300 empleos en diciembre, unos 200. "Esperamos que en 2009 las plantillas vuelvan a niveles de 2005, mientras que en 2010 los ingresos serán como en 2002-2003", señalan.

Empresas en la picota
Pero el parón económico no sólo está haciendo mella dentro del sector financiero. También en cientos de multinacionales que durante años han tirado de la economía mundial. Ningún sector logra salir airoso de la recesión reinante. Los recortes se cuentan por miles y afectan a todo tipo de empresas. Los recortes de empleo más sonados de los últimos días han sido los protagonizados por Philips, Pfizer, Caterpillar o Sprint Nextel, compañías estadounidenses que buscan medidas de choque para hacer frente a la crisis.

Frenazos sectoriales
El frenazo del consumo, el crack inmobiliario y la crisis crediticia provocan cada día nuevas bajas en la industria del motor, la construcción o la distribución, aunque durante las primeras semanas del año la crisis ha golpeado con fuerza a la industria de las telecomunicaciones.

Los malos resultados y la caída de la demanda han provocado serios ajustes de plantilla en pesos pesados del sector tecnológico, que suma cerca de 40.000 despidos en menos de un mes. ¿Los protagonistas? Gigantes de la talla de Microsoft (con 5.000 despidos, lo que representa el 7% de su fuerza laboral), Motorola (con 4.000 despidos que se suman a los efectuados ya en 2008) o Ericsson (con 5.000 empleados, equivalente al 6,5% de la plantilla mundial), entre otros muchos.

Aceleración
Si hay una industria que personifique los efectos de la crisis, esa es la del motor. Los despidos crecen día a día y son tantos que ni siquiera hay datos oficiales sobre el total de empleados despedidos en este sector desde que empezó la recesión. Eso sí, todos los grandes grupos de automoción han puesto en marcha programas de reestructuración para adecuar sus plantillas a las nuevas condiciones del mercado.

PSA Peugeot, Renault, BMW, Volvo, General Motors y Chrysler figuran entre las firmas de automoción que se han empleado más a fondo a la hora de recortar personal. Por ejemplo, hace tan sólo dos días General Motors anunciaba 2.000 despidos adicionales que se suman a los efectuados en 2008.

En el caso del sector industrial, algunos de los ajustes de plantilla más sonados de los últimos meses han estado protagonizados por las empresas Siemens, Alcoa y Río Tinto, que suman en total más de 30.000 despidos.

La recesión también se cobra sus víctimas en el sector de la distribución y la alimentación, que sufren los efectos de la crisis de las economías domésticas. Las consecuencias ya se han dejado sentir en compañías como Marks & Spencer (con más de 1.200 despidos), Pepsi (3.000 empleados menos en Estados Unidos) o Home Depot (que eliminará 7.000 empleos), entre otras.

Malas perspectivas
Lo peor, sin embargo, vendrá en 2009. La sangría de despidos se acentuará durante este año, según pronostican los analistas económicos. Las previsiones apuntan a que más del 35% de las multinacionales reducirán plantilla durante 2009, siendo especialmente significativos los recortes en empresas del sector industrial y tecnológico.

España no escapará, ni mucho menos, de los despidos. Durante 2008, los recortes de empleos se han cebado en nuestro país en la industria de la automoción, la construcción, el consumo y el turismo. Las medidas de regulación de empleo puestas en marcha por empresas del sector del motor (como Seat, Santana, General Motors o Ford, entre otras) afectan a más de 60.000 personas en España, según datos manejados por Comisiones Obreras.

El desplome en la demanda de coches ha estado acompañado por el pinchazo de la burbuja inmobiliaria, que ha provocado ERE (expedientes de regulación de empleo) en decenas de inmobiliarias. Además de los recortes en el mercado automovilístico e inmobiliario, destacan los ERE protagonizados en Spanair y Telefónica.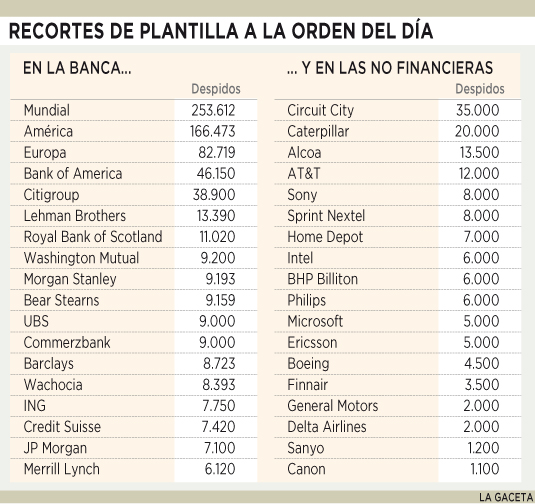 Las cifras ===========================================

Son los puestos de trabajo que ha suprimido el sector bancario desde que comenzó la crisis en el año 2007. Las entidades estadounidenses, sobre todo la gran banca de inversión, han comunicado un total de 166.475 recortes de empleo, el 66% del total, mientras que los bancos europeos han prescindido de 82.719 asalariados (33%). Los despidos asiáticos apenas suponen el 1,7%, reduciéndose a 4.420.
Es el número aproximado de entidades financieras de todo el mundo que en el último par de años han optado por eliminar empleos como medidas de choque para afrontar la crisis. Bancos de inversión, bancos comerciales, hipotecarias y otras empresas de servicios financieros se han visto abocadas a recortar costes para paliar las pérdidas millonarias derivadas de los activos tóxicos y la desaceleración económica.

Bank of America es la entidad financiera que mayor número de puestos de trabajo ha eliminado, 46.150, el grueso de los cuales se produjo en el último trimestre de 2008. Esta destrucción de empleo no responde sólo a la debilidad económica y las dificultades del sector, sino al proceso de absorción de entidades en problemas como Countrywide Financial y más recientemente de Merrill Lynch.

En Europa, las peores cifras son las que registra Royal Bank of Scotland. La entidad británica, que está "al límite", en palabras de su consejero delegado, Stephen Hester, no sólo ha acabado con 11.020 asalariados, sino que su capitalización bursátil se ha reducido de 120.000 millones de dólares a apenas 4.600 millones como consecuencia del deterioro de los activos tóxicos y de la compra del holandés ABN Amro.

Patricia Carmona / Esther Gala
La Gaceta

[VISITA NUESTRA PÁGINA]